Water Depth and Alligator Body Condition
Relationships of Individual Microhabitat to Alligator Body Condition in the Everglades: an Illustration of EDEN use in RECOVER MAP
Authors
Ikuko Fujisaki and Ken Rice
Figure 1
Alligator capture locations within EDEN study area in 2003-2004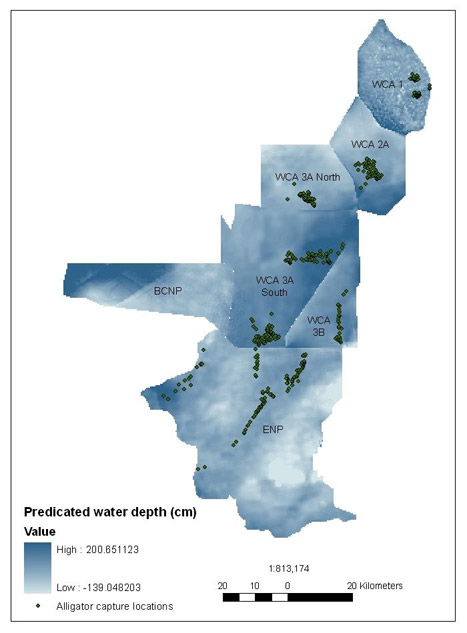 Figure 2
Measured vs. predicted water depth at alligator capture locations (r=0.89)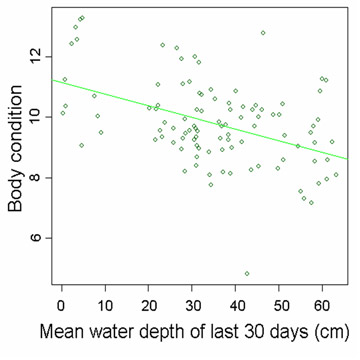 Figure 3
Predicted water depth vs. alligator body condition
Negative correlations were found between predicted mean water depth of past 30 days (r=-0.40), 31-60 days (r=-0.35), and 61-90 days (r=-0.11) and body condition of alligators captured in Everglades National Park.
Alligator body condition responds quickly to changes in water depth. Most changes occurred within 60 days.
Future models will explore hydrologic variables that reflect the standing crop of alligator prey.
Ideally, one model could describe body condition throughout the Everglades.
Citation
Fujisaki, Ikuko and Ken Rice. (2006, June). Water Depth and Alligator Body Condition: Relationships of Individual Microhabitat to Alligator Body Condition in the Everglades: an Illustration of EDEN use in RECOVER MAP. Poster presented at the Greater Everglades Ecosystem Restoration Conference, Orlando, Florida.