Melissa Miller, Ph.D.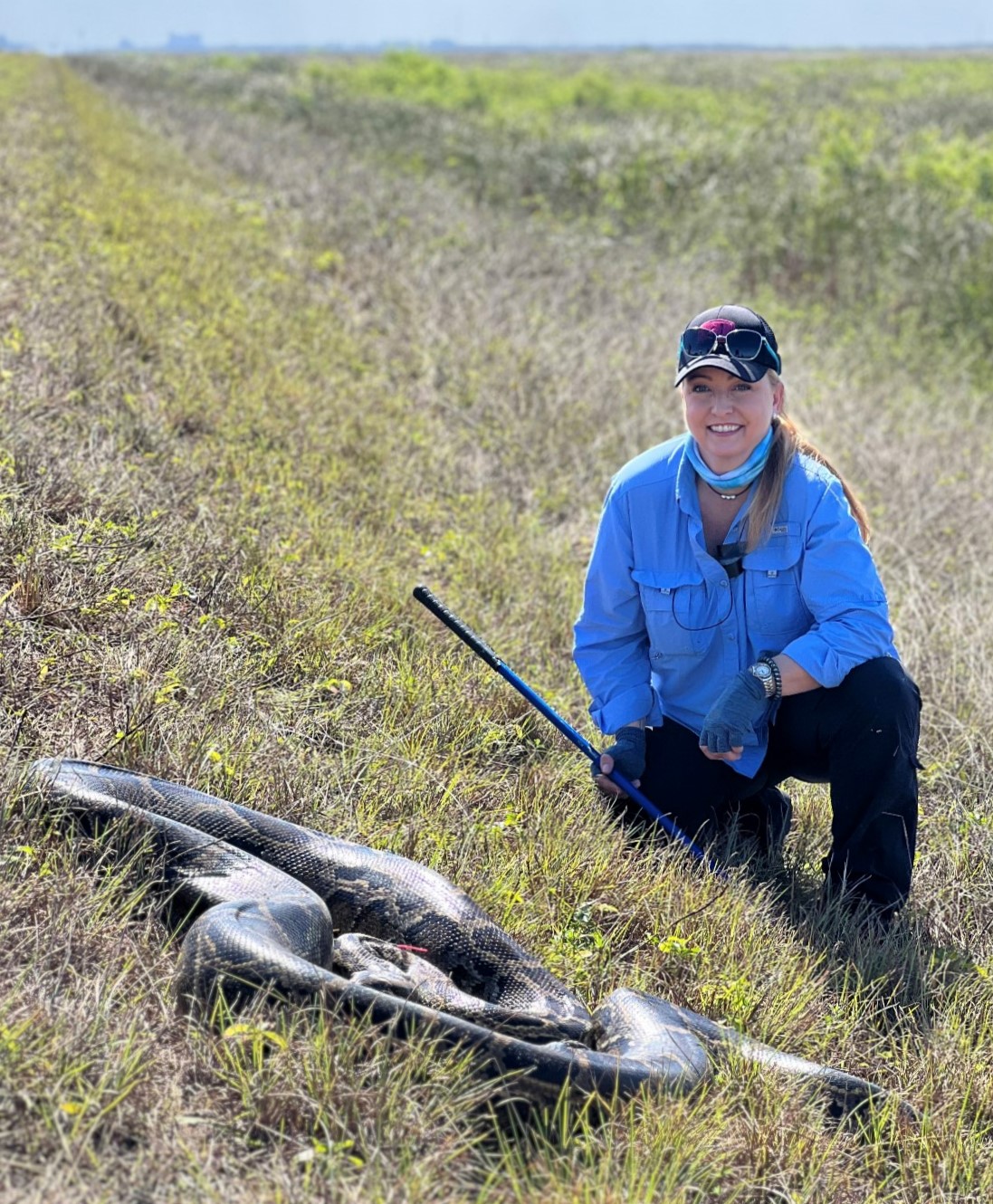 Email: melissamiller@ufl.edu
Position and Affiliation
Research Assistant Scientist, UF/IFAS Fort Lauderdale Research and Education Center, Davie, FL. Affiliate Faculty, Wildlife Ecology and Conservation, University of Florida, Gainesville, FL Invasive Species Research Coordinator, UF - Fort Lauderdale Research and Education Center

Areas of Interest
Dr. Miller specializes in invasion biology with a focus on identifying mechanisms through which biological invasions cause environmental and economic harm. Through applied and basic research of large invasive reptiles in the Greater Everglades Ecosystem, she addresses ecological and evolutionary questions to further our understanding of invasions and aid natural resource managers in invasive species control efforts. Current projects focus on examining the impact of emerging parasites and pathogens co-introduced with invasive species, linking invasive species ecology with removal efforts, exploring innovative tools and technologies to increase effectiveness of control efforts, and statistical assessment of invasive species management strategies.
Education
Ph.D. Auburn University, 2017
M.S. Sam Houston State University, 2009
B.S. Northern Kentucky University, 2005

Project Involvement
Dr. Miller coordinates and oversees the invasive species research program for the UF Croc Docs laboratory. She is PI, or Co-PI, for several projects aimed to further our understanding of the ecology, habitat use, and movement of invasive reptiles in southern Florida, specifically priority invasive species including Burmese pythons, Argentine black and white tegus, Nile monitors, iguanas, and spectacled caimans. Projects are conducted in close collaboration with federal, state, and local government agencies, non-governmental organizations, tribes, and other stakeholders to provide science-based information to aid invasive species management and Everglades restoration efforts.
Publications
Guzy, J.C., B.G. Falk, B.J. Smith, J.D. Willson, R.N. Reed, N.G. Aumen, M.L. Avery, I.A. Bartoszek, E. Campbell, M.S. Cherkiss, N.M. Claunch, A.F. Currylow, T. Dean, J. Dixon, R. Engeman, S. Funck, R. Gibble, K.C. Hengstebeck, J.S. Humphrey, M.E. Hunter, J.M. Josimovich, J. Ketterlin, M. Kirkland, F.J. Mazzotti, R. McCleery, M.A. Miller, M.M. McCollister, M. Rockwell Parker, S.E. Pittman, Michael Rochford, C. M. Romagosa, A. Roybal, R.W. Snow, M.M. Spencer, J.H. Waddle, A.A.Y. Adams, and Kristen M. Hart. 2023. Burmese pythons in Florida: A synthesis of biology, impacts, and management tools. NeoBiota 80:1-119. https://doi.org/10.3897/neobiota.80.90439 * Co-authors ordered alphabetically after fifth co-author.
Tillis, S.B., J.M. Josimovich, M.A. Miller, L.L. Hoon-Hanks, A.M. Hartmann, N.C. Claunch, M.E. Iredale, T.D. Logan, A.Y.A Yackel Adams; I.B. Bartoszeck, J.S. Humphrey, B.M. Kluever, M.D. Stenglein, R.N. Reed, C.M. Romagosa, J.F.X. Wellehan, and R.J. Ossiboff. 2022. Divergent serpentoviruses in free-ranging invasive pythons and native colubrids in southern Florida, United States. Viruses 14(12),2726. https://doi.org/10.3390/v14122726
Spencer, M.M., M.A. Miller, A. Courtemanche, J.M. Kinsella, S. Funck. 2022. Python bivittatus (Burmese Python), Parasites. Herpetological Review. 52(2):347-348.
Cole, J., J.R. Dalaba, M.A. Miller, and F.M. Mazzotti. 2021. Large snake lineup for South Florida: A guide to differentiating between non-native and native snakes. WEC439/UW434, 6/2021". EDIS 2021 (5). https://doi.org/10.32473/edis-uw484-2021.
Fieldsend, T.W., M.E. Harman, and M.A. Miller. 2021. First record of an Asian Tongueworm, Raillietiella orientalis (Pentastomida: Raillietiellidae), parasitizing a lizard (Gekko gecko, Squamata: Gekkonidae): a novel interaction between two non-native species in Florida. IRCF Reptiles and Amphibians, 28(2):255-256.
Goetz, S.M., D.A. Steen, M.A. Miller, C. Guyer, J. Kottwitz, J.F. Roberts; E. Blankenship, P.R. Pearson, D.A. Warner, and R.N. Reed. 2021. Argentine black and white tegus (Salvator merianae) can survive the winter under semi-natural conditions well beyond their current invasive range. PLOS ONE, 16(3), p.e0245877. https://doi.org/10.1371/journal.pone.0245877
Miller, M.A., J.M. Kinsella, R.W. Snow, B. Falk; R.N. Reed; F.J. Mazzotti, C. Guyer and C.M. Romagosa. 2020. Highly competent native snake hosts extend the range of an introduced parasite beyond its invasive Burmese python host. Ecosphere. 11(6):e03153. 10.1002/ecs2.3153 Full PDF
Notice of Copyright: © 2020 The Authors. This is an open access article under the terms of the Creative Commons Attribution License, which permits use, distribution and reproduction in any medium, provided the original work is properly cited.
Guyer, C., B. Folt, M. Hoffman, D. Stevenson, S. Goetz, M.A. Miller, and J.C. Godwin. 2019. Patterns of head shape and scutellation in Drymarchon couperi (Squamata: Colubridae) reveal a single species. Zootaxa. 4695(2):168-174
Westfall *, A.K., M.A. Miller, C.M. Murray, B.G. Falk, C. Guyer, and C.M. Romagosa. 2019. Host-specific phenotypic variation of a parasite co-introduced with invasive Burmese pythons. PLOS ONE. 14(1): p.e0209252
Miller, M.A., J.M. Kinsella, R.W. Snow, M.M. Hayes, B.G. Falk, R.N. Reed, F.J. Mazzotti, C Guyer, and C.M. Romagosa. 2018. Parasite spillover: indirect effects of invasive Burmese pythons. Ecol Evol. 8(2):830 – 840
Gitzen, R.A., B.J. Keller, M.A. Miller, S.M. Goetz, D. Steen, J. Godwin, and J.J. Millspaugh. 2016. Effective and purposeful monitoring of species reintroductions. In Jachowski, D.S, J.J. Millspaugh, P.L. Angermeier, and R. Slotow, Eds, Reintroduction of fish and wildlife Populations. University of California Press, Oakland, CA. pp. 283 – 317
Nikolakis *, Z., A.K. Westfall *, S.M. Goetz, D. Laurencio, and M.A. Miller. 2016. Osteopilus septentrionalis (Cuban Treefrog), Predation. Herpetol. Rev. 47(3):440.
Westfall *, A.K., Z. Nikolakis *, J. Friers, and M.A. Miller. 2016. Basiliscus vittatus (Brown Basilisk), Diet. Herpetol. Rev. Vol. 47(3):461
Miller, M.A. and W.I. Lutterschmidt. 2014. Cutaneous water loss and epidermal lipids in two sympatric and congeneric pit vipers. J. of Herpetol., 48(4):577 – 583
Dorcas, M.E., J.D. Willson. R.N. Reed., Snow, R.W., Rochford, M.R., Miller, M.A., Meshaka Jr., W.E., Andreadis, P.T., Mazzotti, F. J., Romagosa, C. M., and K.M. Hart. 2012. Severe mammal declines coincide with python proliferation in Everglades National Park. Proc. Natl. Acad. Sci. 109(7):2418 – 2422 (cover article)
Ray, J.M., A.M. Hein., A. Gonzalez, S.M Goetz, and M.A. Miller. 2011. Imantodes cenchoa (Brown Blunt-Nosed Vine Snake), Diet. Herpetol. Rev. 42(2):100
Ray, J.M., A.M. Hein., A. Gonzalez, S.M Goetz, and M.A. Miller. 2011. Imantodes cenchoa (Brown Blunt-Nosed Vine Snake), Maximum Size. Herpetol. Rev. 42(3):614 – 615
* Denotes undergraduate researcher