Venetia Briggs-Gonzalez, Ph.D.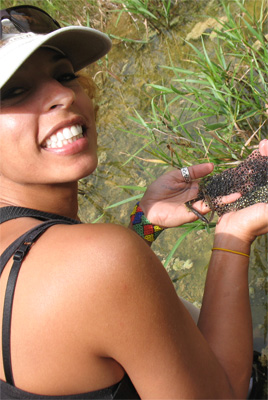 Email: vsbriggs@ufl.edu
Position and Affiliation
Wildlife Ecologist, UF - Fort Lauderdale Research and Education Center
Director, Lamanai Field Research Center
Areas of Interest
The dynamics of the tropics and the realm of animal behavior fascinate me. And, in the tropics, the teeming, yet coexisting biodiversity prompts endless questions. I am interested in species interactions, in how and why species can co-exist, compete, communicate, develop mutualisms and evolve with time to form viable communities, including those at the human/animal interface. At the species level I am drawn to the intricacies of mating systems and how sexual selection plays a major role in natural selection. My work in my homeland, Belize, and in Panama, and the southern US illustrate the rich natural resources available to us, but a tangible paucity of knowledge... that intrigues me and I am thus dedicated to conservation efforts aimed toward sustainable natural resource management.
Education
UNESCO-L'Oreal Women in Science Post-doctoral Fellow, BU/STRI, Panama, May 2007-2009
Ph.D. Biology, University of Miami, Coral Gables, FL, December 2007
M.Sc. Biology, University of Southern Mississippi, Hattiesburg, MS, August 2001
B.Sc. Biology: Environmental Science, University of Southern Mississippi, Hattiesburg, MS, May 1999
A.A., Biology, Meridian Community College, Meridian, MS, May 1997
Project Involvement
The Chiquibul/Maya Mountain Massif Conceptual Ecological Model, Wildlife Ecological Modeling and Monitoring in South Florida, Belize, and the Caribbean, Community Cat Conservation Project in Belize, and Everglades Invasive Reptile and Amphibian Monitoring Program
Publications
Briggs-Gonzalez, V.S., and F.J. Mazzotti. 2014. Camera Trapping Wild Cats with Landowners in Northern Belize. Caribbean Naturalist 17: 1-13.
Briggs, V.S. 2013. Do big dads make big babies? Paternal effects on larval performance in red-eyed treefrogs of Belize (Agalychnis callidryas, A. moreletti). Herpetological Journal 23:131-138.
Briggs, V.S., F.J. Mazzotti, R.G. Harvey, T.K. Barnes, R. Manzanero, J.C. Meerman, P. Walker and Z. Walker. 2013. Conceptual Ecological Model of the Chiquibul/Maya Mountain Massif, Belize. Human and Ecological Risk Assessment. 19:317–340.
Briggs, V.S. 2012. Agonistic Behavior of the Mediterranean Gecko Hemidactylus turcicus. Zoological Studies 51 (7): 956-965.
Gonzalez, S.C and V.S. Briggs. 2011. Aggression in froglets of red-eyed treefrogs, Agalychnis callidryas. Herpetology Notes 4: 315-318.
Briggs, V.S. 2010. Call trait variation of Morelett's treefrog, Agalychnis moreletii of Belize. Herpetologica 66 (3):241-249.
Van Allen, B.G, V.S. Briggs, M.W. McCoy and J.R. Vonesh. 2010. Carry-over effects of the larval environment on post-metamorphic performance in two hylid frogs. Oecologia DOI. 10.1007/s00442-010-1728-8.
Briggs, V.S. 2008. Mating patterns of red-eyed treefrogs, Agalychnis callidryas and A. moreletii. Ethology 114: 489-498.
Ugarte, C. and V. Briggs. 2007. Hyla loquax Predation. Herpetological Review. 38 (2): 186.