From Pets to Invasive Predators: Burmese Pythons in the Everglades
Authors
Rebecca G. Harvey, Matthew S. Brien, Michael Dorcas, Michael Rochford, Ray W. Snow and Frank J. Mazzotti
| | |
| --- | --- |
| | The Burmese python (Python molurus bivittatus), a popular pet native to Southeast Asia, has established a thriving population in the Everglades that may threaten native endangered species. |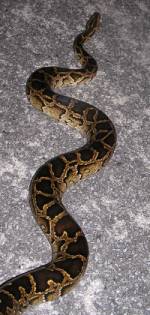 A Demanding Pet
One of the largest snakes in the world: up to 23 ft long, 200 lbs
99,000 imported to the U.S. as pets from 1996-2006
Low prices encourage impulse buys
Rapid growth and voracious appetite overwhelm pet owners
Pythons escape or are illegally released
An Invasive Species
Pythons thrive in Everglades climates and habitats
Population expansion is facilitated by pythons' diverse habitat use, broad diet, long lifespan, high reproductive rate, and long distance movements
Thousands already inhabit Everglades and are breeding there
Compete with native species for food and habitat
Prey on threatened and endandered species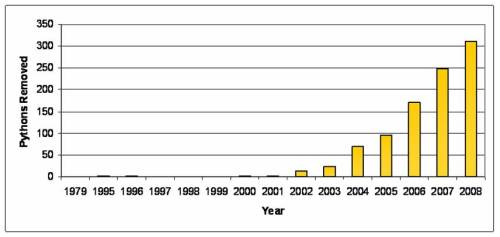 Annual number of Burmese pythons removed from in and around Everglades National Park (as of Dec. 9 2008)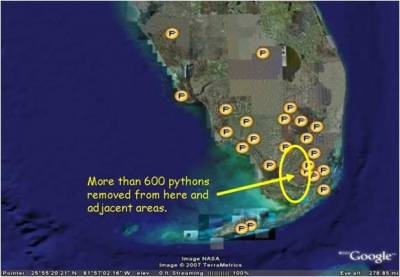 Locations of Burmese pythons observed in South Florida from mid-1990s to 2007
Research and Management
The University of Florida is collaborating with the U.S. National Park Service, U.S. Geological Survey, U.S. Fish and Wildlife Service, South Florida Water Management District and Davidson College to study the impacts of pythons on South Florida ecosystems and develop tools to control pythons: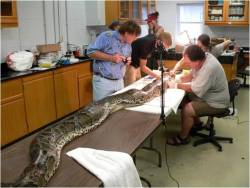 Surgically implanting a radio transmitter in a Burmese python
Radiotelemetry
Pythons are implanted with radio transmitters.
Telemetered pythons lead to other pythons and nests.
Pythons have a "homing" ability: travel up to 48 miles to return to capture sites
Diet Analysis
Contents of pythons digestive tracts are analyzed.
37 different species--including wading birds, deer, and alligators--have been identified by bones, teeth, and hair.
Prey includes two endangered species (woodstork and Key Largo woodrat), two species of special concern (limpkin and white ibis), and eventually may include other protected species such as Florida panthers and Cape Sable seaside sparrows.
Thermal Research
Continuous measurement of python body tempuratures and environmental temperatures
Information on microhabitat use (e.g., pythons stay under shelter at night and emerge to bask in morning) helps researchers capture pythons.
Models predict feeding frequencies to estimate pythons' impact on native fauna.
Capture and Removal
Captured pythons are euthanized and nests are destroyed.
Research on distribution, diet, movements, and habitat use is applied to develop management plans.
Researchers are working to develop effective python traps.
| | |
| --- | --- |
| | |
| Mark Parry and Matt Brien with captured Burmese python | First python nest found in Everglades National Park, 2006 |
What You Can Do
Obey the law

Owners of Burmese pythons and other "reptiles of concern" must purchase a $100 annual permit and implant a microchip in their pet.
Releasing exotic wildlife in FL can result in up to a year in prison and a $1000 fine.
If you or someone you know wants an exotic pet, do your research first and avoid impulse buys.
If you can no longer care for an exotic pet, find someone who can. Don't let it loose!
Learn more about nonnative species, ownership laws, and PetAmnesty Days at myfwc.com/nonnatives
Report sightings of free-ranging pythons by calling the USNPS Python Line at 305-815-2080, the Keys Python Line at 1-888-I've-Got-1 (1-888-483-4681), or the Miami-Dade Fire Rescue Dept. at 786-3341-4454.
Citation
Harvey, R.G., M.L. Brien, M.S. Cherkiss, M. Dorcas, M. Rochford, R.W. Snow and F.J. Mazzotti. (2009, April). From Pets to Invasive Predators: Burmese Pythons in the Everglades. Poster presented at Nova Southeastern University Earth Day 2009.