Occurrence of Wildlife on Tree Islands in WCA 3A
Authors
Jennifer K. Ketterlin, Frank J. Mazzotti, Kenneth G. Rice and Michael R. Anderson
Introduction
Tree islands account for a very small percentage of the Everglades landscape but provide essential habitat diversity, allowing many species of plants and animals to exist there that otherwise would not. Although deemed very important to the Everglades ecosystem, relatively few studies have been conducted on the wildlife ecology of tree islands. Up to half of historic tree islands have been lost or disturbed and understanding their wildlife ecology will be important for restoration efforts.
Purpose
The purpose of this study is to better understand the tree island wildlife-habitat relationships to support ecosystem restoration.
Objectives
Do island morphology and geography influence the occurrence of wildlife on tree islands?
How does hydrology affect wildlife use of the islands?
What vegetation types and structures are preferred by wildlife?
Materials and Methods
Digital camera traps with infrared sensors are being rotated every two weeks over sixty tree islands in Water Conservation Area 3A. Size, location and height of the islands will be measured along with vegetation characteristics and water depths of the surrounding marsh. Different techniques of camera trapping itself (height, baiting, camera model, and length of trapping) is also being tested.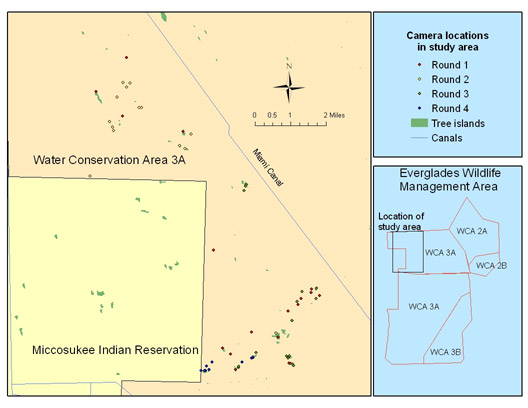 Cameras
Pictured: TrailMAC Olympus D-425
Other models used for this research:
TrailMAC Olympus D-380, TrailMAC Olympus D-540, and CamTrakker Sony DSC-P41. TrailMAC cameras by Trail Sense Engineering, LLC, Middletown, DE CamTrakker by CamTrakker, Watkinsville, GA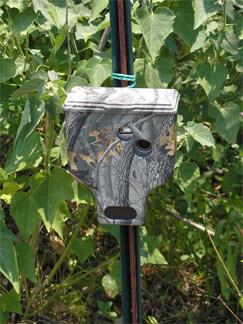 Summary of Project to Date
Number of islands sampled: 53
Sampling days: 742
Total number of species: 13
Number of bird species: 8
Average water level: ~10.5 ft NGVD
Average island size: 2.03 acres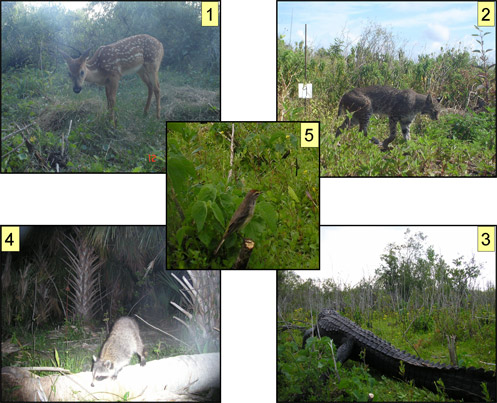 Species Pictured on Islands
(1) White-tailed deer (Odocoileus virginianus)
(2) Bobcat (Lynx rufus)
(3) American alligator (Alligator mississippiensis)
(4) Raccoon (Procyon lotor)
(5) Palm warbler (Dendroica palmarum
Results
Camera trapping is an effective method for studying wildlife use of tree islands. However, cameras may need to be deployed for longer than two weeks in order to capture more species. Also, initial results from varying the height of cameras show that placing cameras at a 'medium' height (~12") will capture the most species with fewer false triggers (i.e. wind and rain).
Citation
Ketterlin, Jennifer K., Frank J. Mazzotti, Kenneth G. Rice and Michael R. Anderson. (2006, June). Occurrence of Wildlife on Tree Islands in WCA 3A. Poster presented at the Greater Everglades Ecosystem Restoration Conference, Orlando, Florida.